If you had only been looking at our blog, you could have been forgiven for thinking that we'd barely done any work to ChronoFlo Calendar since we launched earlier this year. Our blog had not been updated for many months, after all.
But this is not because we have been twiddling our thumbs doing nothing. Rather, we have been working so hard improving - and adding new features to - our events calendar software that we simply have not had the time to tell you all about it, in a blog post.
Well, let's rectify that. Below you will find information about major new features we've added in recent months: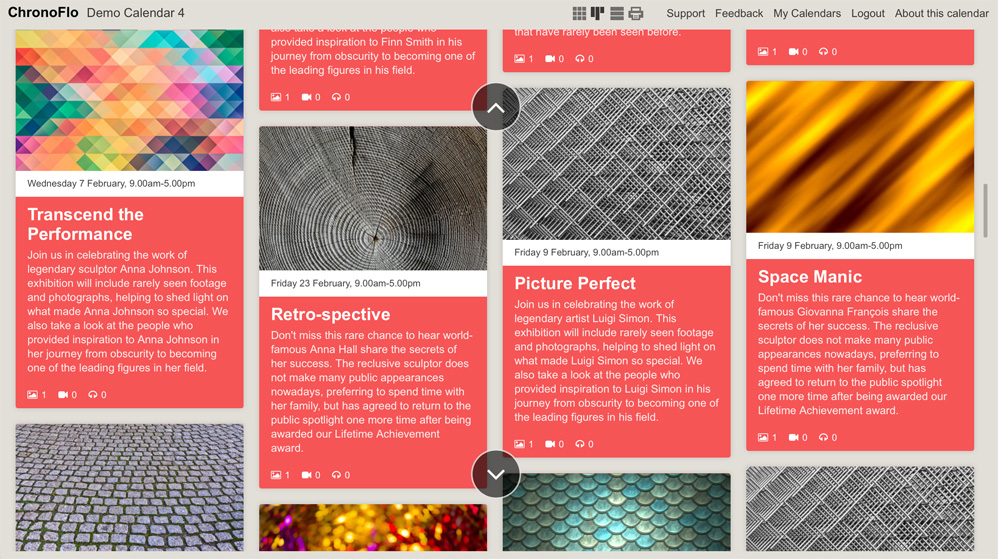 We like to think our monthly calendar view is one of the prettiest available, featuring slick animations and loads of user customisation. But sometimes you might want to display your events in a different format.
That is why we have provided a pinboard and list view for events. You can switch between the different views by clicking the icons at the top of the screen, and you can set your calendar to load in the pinboard or list view via the 'start view' option in the 'Calendar settings' tab, accessible from the options panel for a calendar.
You no longer need to manually add a new event each month, or each week. Instead, you can set an event to repeat daily, monthly, annually (plus lots of other options) and our software will automatically do all the hard work for you.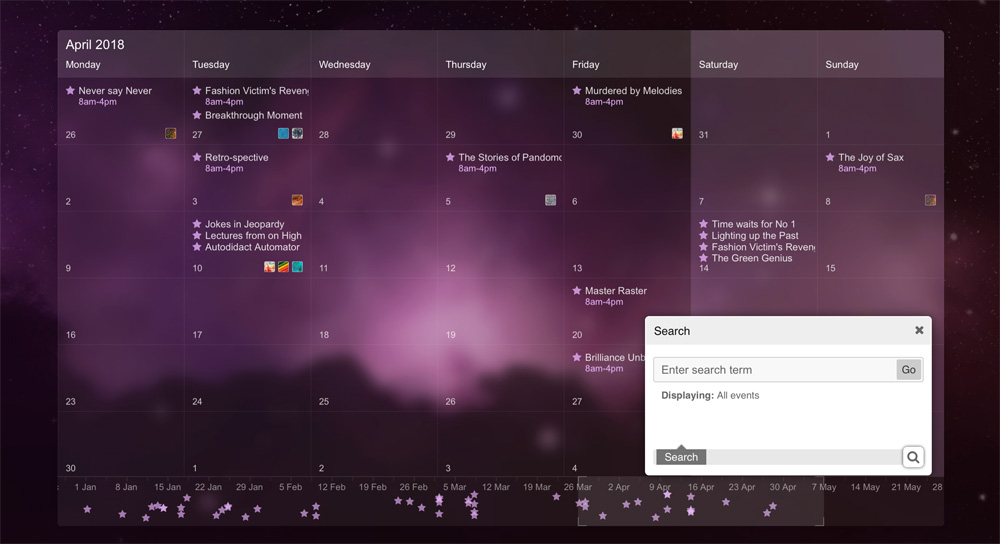 If you have logged into ChronoFlo Calendar recently, you might have noticed a little magnifying glass icon at the bottom right of your calendars. Clicking on this icon launches our new search and filter panel, which allows you to search events for a particular keyword or - if you have created categories - filter them by the category they're assigned to.
Ever since we launched ChronoFlo Calendar, users have been able to assign events to a particular category and distinguish between them using different colors and icons. Now, it is also possible to tag events with multiple keywords, and filter all events by a particular tag.
People who manage events often find themselves entering the same information in again and again. This is especially the case for the locations where events take place. That is why we now allow users to save details for a location - such as the name and address, contact details etc - in one place, and then link this location to particular events simply by selecting it from a drop down. No more endlessly entering addresses and phone numbers.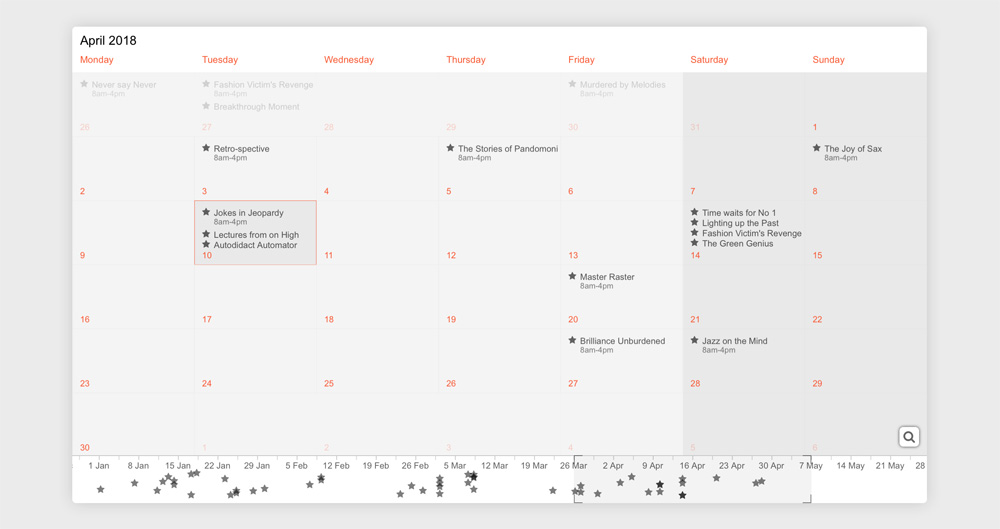 From the outset, we always wanted to make ChronoFlo Calendar the most customizable calendar on the web. Users already have wide scope to change the appearance of a calendar, selecting their own color scheme, images and fonts.
Now, they can also decide to give particular days - such as weekends or Mondays, say - a different look to other days on the calendar. This is great for distinguishing weekends from workdays, for example, or for highlighting the current day.
One day we would like people from all over the world to use our calendar software. We have therefore put a lot of effort into supporting other languages. We now provide support for almost 30 languages, everything from common languages such as German, French and Spanish to rarer specimen such as Finnish and Slovenian.
You can set the language for your calendar via the 'language' drop down menu in the 'Calendar settings' tab, accessible from the 'options' panel for your calendar. Please note that at present, only the calendar is translated, not our admin interface.
This is by no means a comprehensive list. We have also undertaken lots of bug fixes and smaller improvements. For example, you and your users can now print out individual events via the new 'Print' option in an event's content panel. We have also made it easier to add new locations and categories for an event directly from the 'event editing' panel.
And there is more to come. We are committed to making ChronoFlo Calendar one of the most feature-rich calendar apps around, and are planning to add major new features over coming months.
If you would like more information on these new features, or would like to suggest some new functionality, please drop us an email at help@chronoflocalendar.com. To keep up to date with the latest ChronoFlo news and developments, you may want to follow us on Twitter, Facebook and Google Plus.