ChronoFlo Calendar is online calendar software for displaying events or managing your life. It comes with a number of beautiful hand-designed themes and features a pioneering timeline-based navigation. Plus, it offers unrivalled customisation options to help you create a calendar that perfectly matches your brand.
Our Wordpress plugin offers an easy way of embedding your ChronoFlo calendars into your Wordpress site. It provides a shortcode that you can paste into a Wordpress page or blog post to embed your calendar.
Please note that you will need your own installation or a third-party installation of Wordpress for our plugin to work. The plugin won't work with sites hosted on www.wordpress.com because Wordpress does not allow iFrames on those sites.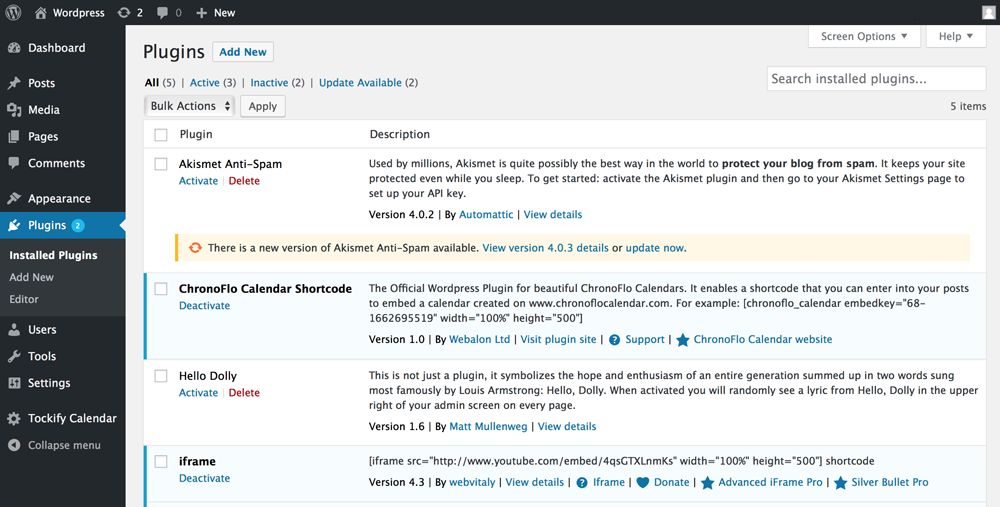 Follow the below instructions to install and activate the ChronoFlo Calendar Shortcode plugin:
Login to your Wordpress dashboard

Select Plugins -> Add New from the options on the left

Enter ChronoFlo Calendar into the search field

Click on the install button for ChronoFlo Calendar Shortcode

Alternatively, you can download a zipped version of the plugin here and manually install it in Wordpress's plugins directory (/wp-content/plugins/)

Now activate the plugin in your Wordpress installation as follows: Select the plugins page from your Wordpress dashboard. Click the activate option against the ChronoFlo Calendar Shortcode plugin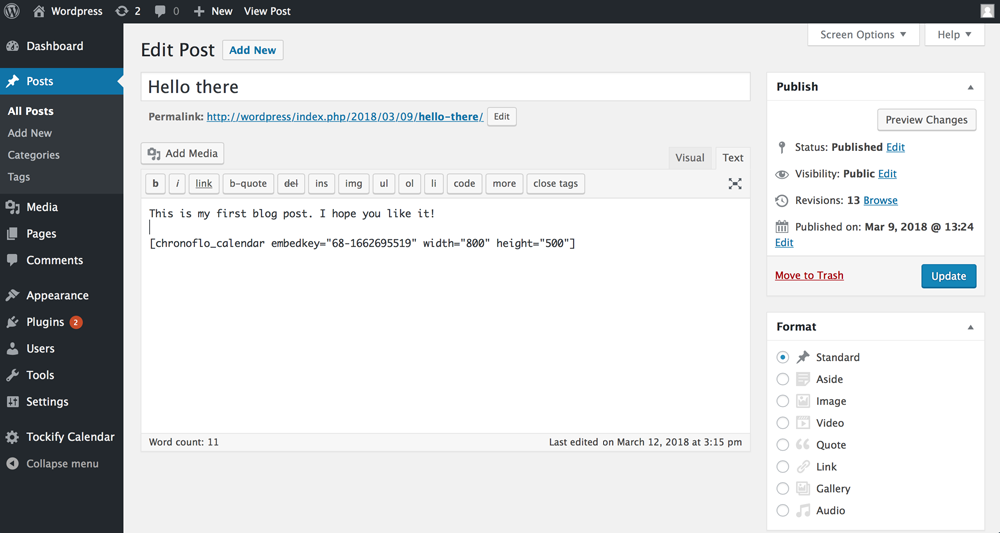 Follow the below instructions to obtain a shortcode to display a ChronoFlo calendar on your website:
If you haven't already, sign up for a free or premium account on the ChronoFlo Calendar website

Create or edit your calendar on the ChronoFlo Calendar website

Obtain the embedkey for your calendar on www.chronoflocalendar.com. You can find this as follows: Select the 'Share and embed' option in the Options panel for your calendar. Copy the embedkey text. It will look something like this: 68-1662695519

Now replace the embedkey in the following shortcode with the embedkey obtained above: [chronoflo_calendar embedkey="68-1662695519" width="100%" height="500"]

You can also change the width and height values to set the dimensions the calendar will be embedded at

Finally, paste the shortcode into a Wordpress blog post or webpage, and your calendar should then be embedded